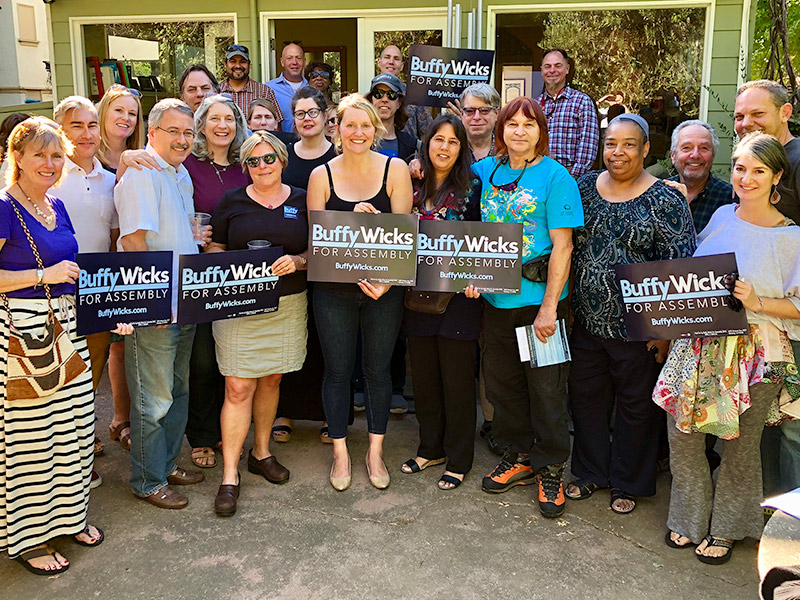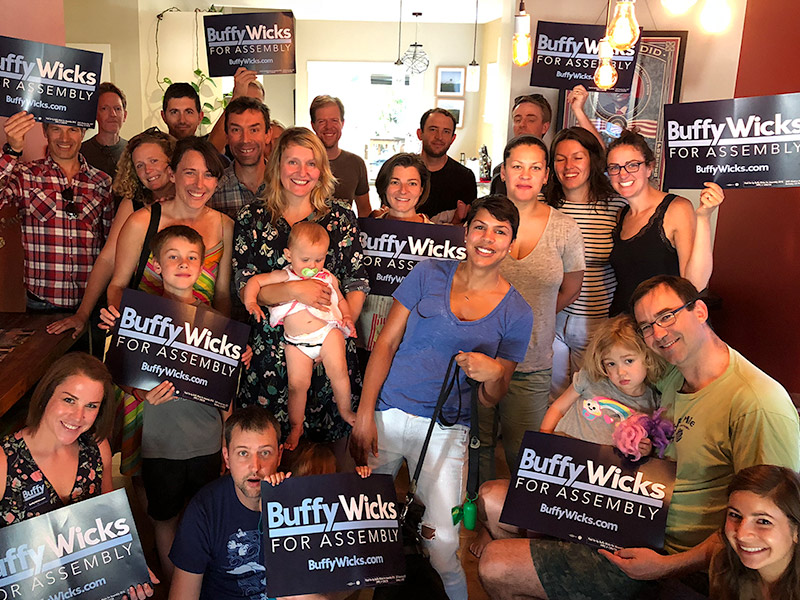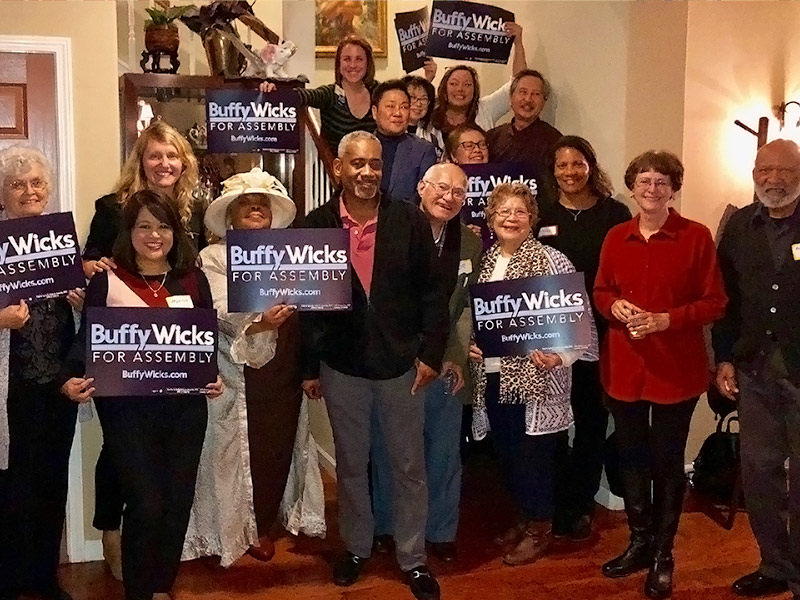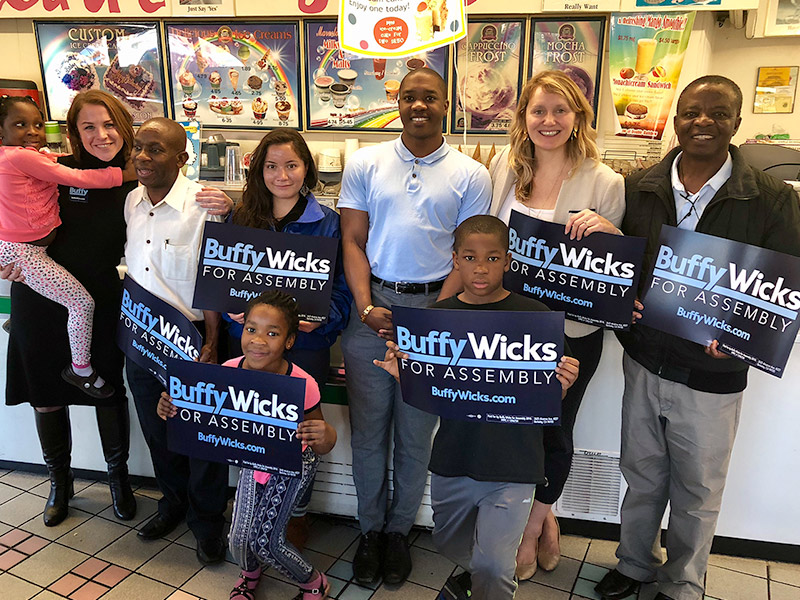 Statement from Buffy Wicks Campaign on Jovanka Beckles and Outside Spending
 Berkeley, CA.–  Today Jovanka Beckles issued a press release regarding contributions made on her behalf by the California African American PAC, an outside independent expenditure campaign. Chevron, Tesla, Disney, the California Prison Guards and pharmaceutical giant Eli Lilly all contributed to the PAC.
Filings show that the California African American PAC listed the contribution on October 25th.  Yet, the Beckles campaign chose to make a statement denouncing this corporate money-funded independent expenditure a full week later, only after she had benefited from their spending on her behalf and only after it was called into question by Berkeleyside. Berkeleyside reported about the contributions here and sent out two text campaign updates, calling out the PAC, its funders and stating that "…It turns out that the same sorts of groups Wicks has been criticized for fund an IE…in support of Beckles." Screenshots of the texts can be found of the texts below.
"Jovanka Beckles has staked her candidacy on this issue, and her statement today is misleading and hypocritical," said Amelia Matier, campaign manager of Wicks' for AD 15. "Ms. Beckles had the opportunity do more than just talk the talk, and she failed. The residents of AD 15 deserve better."
"Buffy has said from day one that she would not accept corporate money, and she has not." Amelia said.  "She has also said throughout this campaign that we urgently need campaign finance reform to get outside money out of politics and that IEs are problematic, corrosive and should not exist. She has been consistent and truthful with voters on this. She has run a positive and truthful campaign, and she has prioritized resources, time and strategy to a grassroots organization to engage and listen to voters. We believe that matters to voters in this District."
Recently, on the KQED Forum program,  Jovanka said people must "follow the money."  She also says candidates who receive money from corporate interests, officially or unofficially, will be influenced.
Wicks said in response (25.28 –  – 27.08):
"My opponent has said at many forums, insinuating that I'm owned by the billionaires and that there is billionaire money coming into the race.  But here is the truth of the matter. One, I've taken no corporate money. Two, I have almost 3,000 donations to my campaign and the median donation amount is $100.  Eighty-five percent of my donors have given $500 or less, so the vast majority of the resources coming into my campaign are small-dollar donations. I have had people such as Tom Steyer, George Soros and others who have donated to my campaign the maximal amount allowed by law, which is $4400.  Those are folks that fund the progressive movement across this country and support progressive candidates. All of my donors who have donated to my campaign have donated to people like Gavin Newsom and Kamala Harris and other great Democrats up and down this state," she said.
"The truth of the matter of IEs, there are IEs that are supporting both of us.  I don't like IEs. We need campaign finance reform. No candidate wants an independent expenditure out there communicating for or against them without the candidate having control of that.  It is a very difficult thing. We saw it in this race in 2014…we've seen in races all across this country. To me it is one of the corrosive part of our politics. We have to get reforms around it.  It is made difficult because of the Citizens United decision. I do not like them and I wish there were not involved in the race. It is the reality that we are in. What I can control are the resources that come to my campaign and what I should be judged on is my twenty years working in grassroots politics, working in the labor movement, working as an anti-war organizer, helping to elect the first Black president, working in progressive politics," said Buffy.
Progressive leaders endorsing Buffy include President Barack Obama, United States Senator Kamala Harris, California Lt. Governor Gavin Newsom, Oakland Mayor Libby Schaaf, Richmond Mayor Tom Butt, El Cerrito Mayor Gabriel Quinto, Albany Mayor Peggy McQuaid, Emeryville Mayor John Bauters, Piedmont Mayor Bob McBain, Hercules Mayor Chris Kelley, world renown labor leader Dolores Huerta, Bart Board member Lateefah Simon and many other elected and community leaders across the district.  In addition, she is endorsed by the San Francisco Chronicle, The San Jose Mercury News, and East Bay newspapers and the West Contra Costa County and Berkeley Democratic Clubs. Labor organizations supporting Buffy include the Building and Construction Trades Council of Alameda County, Northern California Carpenters Regional Council, LIUNA Laborers Local 324 and Local 304, Sheet Metal Workers Local 104, Plumbers & Steamfitters UA Local 342, Construction & General Laborers Local Union 304, Sprinkler Fitters & Apprentices Local 483, Heat & Frost Insulators, Allied Workers Local Union 16 and UFCW Local 5.
More information on Buffy's platform and priorities can be found at www.buffywicks.com.
Buffy Wicks for Assembly 2022. FPPC # 1434997